Program 6 | Solo-Impact Training
The Gregg Ward Group has developed and led hundreds of solo instructor training programs for industry and government. Their programs, which vary in length from two hours to two days, make use of up-to-date learning and development techniques and can be delivered at client site in almost any type of space.
Additionally, many members of the GWG are expert "meeting facilitators" who have successfully facilitated strategic planning sessions, and hosted offsite meetings and global conferences.
Most Requested Programs
Leadership Presence (2 Days)
The Respect Workshop (1 Day)
Conflict Resolution (Half Day)
Prevention of Workplace Harassment & Discrimination (2 hours)
Additional Programs
The Generations at Work
Coaching for Managers & Team Leads
Respectful Leadership
Emotional Intelligence
Talking to Your Employee/Colleague/Boss About Bad Behavior, People Problems & Sticky Situations
Performance Management
Servant Leadership
Leadership Communication Strategies
A Little Look at Big Change
Understanding Ethics: Beyond Compliance
Collaborative Negotiation Strategies
The Essential Supervision Series: the fundamental things you must know and do to be a successful supervisor.
Our Solo-Impact Training/Facilitation program includes:
Individual Subject Matter Expert Instructors
Latest Thinking / Best Practice Programs
Ranging in length from two hours – two days
The Gregg Ward Group leverages a variety of delivery tools including lecture, slideshows, videos, Guided Interactive Facilitation™, small group work, simulations, gaming, experiential learning and webinars
I'm Interested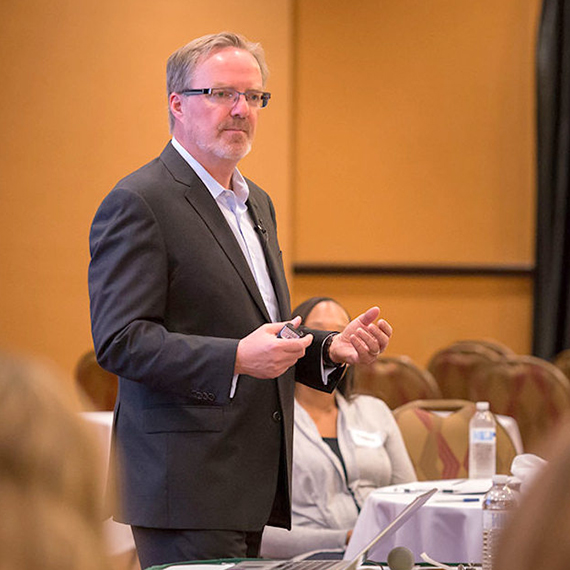 Gregg Ward knows that common sense in the workplace is not necessarily common practice. Read The Respectful Leader to learn how the simple act of treating others with respect can transform individuals for the greater good.

Gregg Ward's incredible sense of respect and appreciation for supporting others through listening and motivating provide him a premier point of expertise in identifying the essential skills every leader should exercise to become more effective.

The work is incredibly effective. They don't dabble in organization development theory or play the guru. They work closely with organizations to learn your culture thoroughly and then reflect it back in truly powerful ways.
Challenge
In 2011, Booz Allen Hamilton determined that a redesign and reinvigoration of its program on Leadership Presence was a significant priority.
Solution
After being approached by Booz Allen's Learning & Development team, Gregg Ward partnered with GWG member and nationally known Executive Presence expert, Cynthia Burnham, to develop a brand new two-day, interactive and experiential learning program called "Leading with Presence."
Results
"Leading with Presence" has been delivered nearly 100 times to Booz Allen Hamilton Associates throughout the United States. The program consistently receives the highest evaluation scores from 92% of participants.
Challenge
Before their merger in 1998, the CIO's of Price Waterhouse and Coopers & Lybrand needed to meet in person with their senior staff to come to agreement on employment, technology and policy standards and practices that would best serve the new mega-firm. This was a "must succeed" event prior to the two firms completing their merger.
Solution
Gregg Ward was contracted to serve as an outside and objective mediator and facilitator of the weeklong merger discussions in London.
Results
The CIO's of both firms were extremely pleased with the process and outcomes of the meeting. In particular they cited Gregg for his "enthusiasm, positive attitude and total commitment to the process and agenda."
CompWest Insurance
Ericsson Wireless
San Diego State University
Western Area Power Administration
US Department of Labor
View Complete List