7 Practices That Will Make You A Respectful Leader
A lot has happened in the world since my book, The Respectful Leader was first published in 2016. At that time, employee surveys were giving us early warning signals of disrespectful behavior increasing in the workplace. Leading up to the U.S. presidential election, the political climate and the amount of incivility in public discourse continued to heat up. Shortly afterward, it appears that disrespect started to rocket upwards in the workplace.
There have been big changes in politics, science, business, the economy, media and culture since then. Almost simultaneously, some raw data and anecdotal evidence have surfaced that seem to indicate that there's been an uptick in disrespectful and inappropriate behaviors in the workplace, schools and society in general. We've continued to hear more and more from our readers, clients, and colleagues that there is an urgent need for leaders to understand the importance of leading with respect. This same lament is what we hear from employees, managers and even leadership in our travels giving speeches and leading seminars around the world.
Why are people feeling so disrespected?
There are many factors to consider. One could be the rapid globalization and mushing together of diverse groups of people. Cultural clashes can quickly arise when one behavior is considered acceptable and tolerable behavior in one culture while in another, the same behavior as disrespectful and intolerable.
Another contributing factor may be our ever-expanding love affair with technology, keeping us distracted and leading us to skip traditional human interaction. How many meetings have we been in with people who are supposed to be paying attention and contributing, but they're constantly being distracted by their phones. Everyone agrees this is disrespectful behavior, but most of us say nothing, especially if our bosses are the culprits.
Simply put, common courtesy is no longer common practice. Employees feel bullied, ignored, and undervalued; and that senior management considers them disposable when times get tough or priorities change. In an HBR study of nearly 20,000 employees, half of those don't feel respected by their bosses. Respectful Leadership means treating everyone—regardless of rank, status, or position–with the same genuine regard and consideration, you would like them to give you. Although Respectful Leadership as an idea may seem warm and fuzzy, don't minimize its power. The measurable results are hard to dismiss. The human and business case for respectful Leadership is undeniable and irrefutable.
The Benefits of Respectful Leadership
The benefits of Respectful Leadership affect not only the leader practicing respect but the organizations they lead. Respectful leaders are respected leaders. They become more resilient and better able to manage others during times of crisis. These leaders are able to find greater satisfaction and sense of confidence and composure in their work and in life. They become more capable of making a positive difference with others.
Organizations led by Respectful Leaders can also see many benefits. When employees feel genuinely respected by their boss, they are more likely to work hard, stay loyal and go the extra mile when the going gets rough. They're also going to be more respectful to others, including their bosses, colleagues and customers. Because respect and trust go hand in hand, teams that have respect also have high levels of trust. From a business sense, this is incredibly important.
Victor Lipman, in his article, "Why Respect is Key to Employee Engagement," describes respect as a lubricant that keeps organizations running smoothly. In one article, he explains how respect and employee engagement go hand in hand. Respect makes people feel included. When you respect your employees and let them know their skills and efforts are appreciated, they'll feel like a part of the team and are more likely to feel motivated at work.
Employees want to work hard for people that respect them. When they feel respected and valued, they'll view management in a more positive light and be more than willing to put in the extra effort and go above and beyond when the time comes. Without respect, morale plunges. When employees feel disrespected and disconnected from management or the organization, their attitude towards work can change quickly. It only takes one soured leader-employee relationship for employees to lose morale.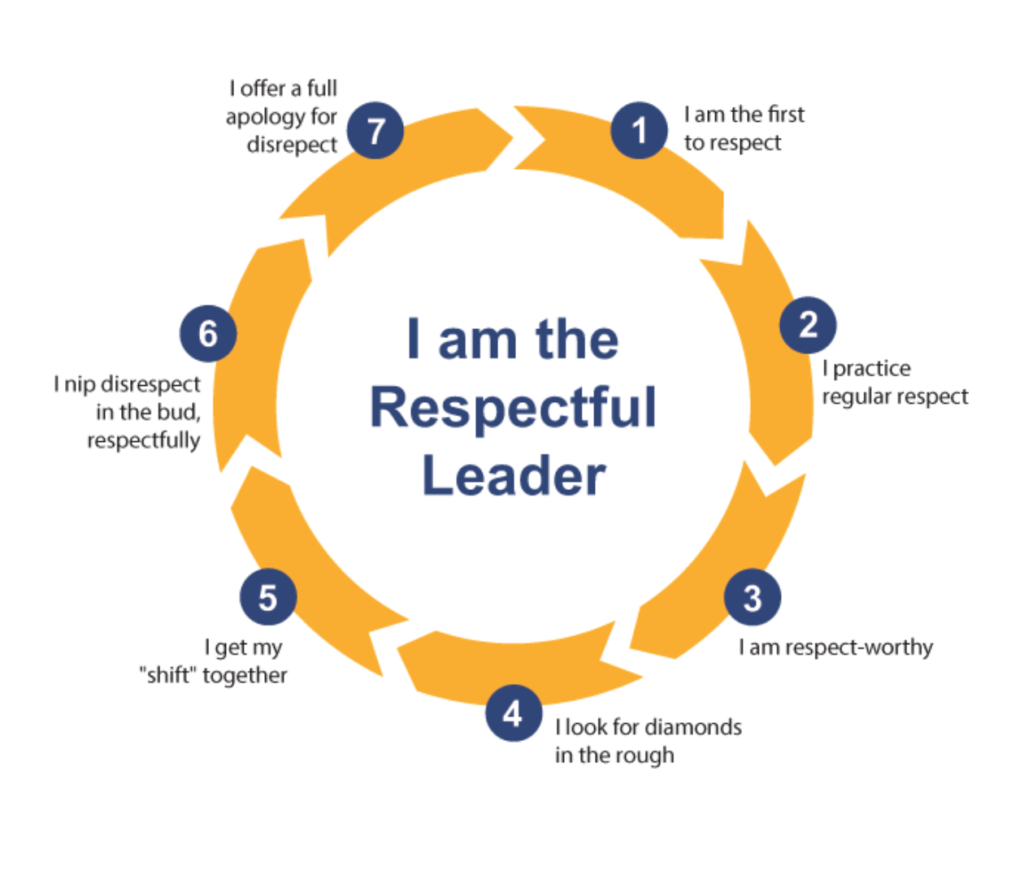 The Foundational Practices of the Respectful Leader
After more than two decades of studying and learning about respect and disrespect while consulting and leading training programs for some of the world's most prestigious companies, nonprofits, and government agencies, my colleagues and I —not to mention many top consultants and organization development experts–have become convinced that creating and maintaining a work culture of respect and Respectful Leaders are absolute business imperatives.
There are seven foundational practices of Respectful Leadership. When they are practiced intentionally and in a sincere and genuine way, these serve as a powerful and highly effective way of operating and managing yourself when interacting with others. This includes your employees, colleagues, clients, and bosses, even with your friends and family or complete strangers. These practices will support you to consistently and positively influence others without intimidation or humiliation
Practice #1 : Be the First to Respect
A respectful leader offers others respect first; they don't wait to be treated with respect before being respectful. Easy ways to demonstrate respect are meeting them with a smile, make appropriate eye contact and use their surnames or Sir, Ms., Mr., Ma'am. The workplace has grown more informal in communication and even dress, there's no question there. This informality can break down silos and hierarchies and it becomes more comfortable to collaborate. It's easier to work with people we consider our equals.
There is a common misconception that respect has to be earned. When you insist that respect has to be earned, then isn't the opposite true? Don't you have to earn your employees' respect, too, or are you expect from your own rule simply because you're the boss? To say that you don't have to earn theirs, would be hypocritical and disrespectful. It would imply you are somehow better or superior simply because of status. This mindset is completely counterproductive. Respectful Leaders are the first to respect.
Practice #2: Practice Regular Respect
When we are young, most of us are taught about common courtesy. In other words, we learned about manners. We're taught to say "Please" and Thank You" and to greet others with a smile and say, "Good Morning". Saying "excuse me", showing up on time or letting someone know when you'll be late and listening attentively are common ones to keep in mind. To be a Respectful Leader you need to engage these common courtesies sincerely and consistently with everyone.
Practice #3: Be Respect-Worthy
While you may believe others should treat with you respect because of your status, authority or position, you can't expect that they always will. Make an ongoing effort to be worthy of others' respect. Characteristics that are respect-worthy are honestly, follow-through, being fair and avoid playing favorites. Some others include cursing and swearing heavily, offering clarity and opportunity to ask questions. Cultivating patience and letting others work at their own pace and setting reasonable timeframe is another respect-worthy characteristic. Respectful Leaders consciously practice being respect-worthy.
Practice #4: Look for Diamonds in the Rough
Respectful leaders make every effort to consistently look for and acknowledge qualities, characteristics, skills and perspectives of others that are worthy of respect. They encourage others to do the same. The power of this particular practice should not go unnoticed. When people feeling genuinely respected and appreciated for their unique skills and behaviors, they become proud of themselves. Their self-confidence grows and their attitude shifts to be more positive and energetic. People who feel respected are more loyal and willing when difficult circumstances arise.
Be careful not to save acknowledgment for the few stars on your teams. It is important to do this with everyone. Each person brings value, whether it's a skill or how they treat other people. Acknowledge these behaviors in a meaningful way. Respectful Leaders consistently look for diamonds in the rough.
Practice #5: Get Your Shift Together
Leaders know it's only a matter of time before they are faced with various problems and challenges. Each circumstance will vary in terms of intensity or emotion. Stay mindful of shifting emotional states and do your best to "Get your shift together" before reacting. Ignoring this may lead to emotional reactions where your frustrations or anger are taken out on others. Take a small walk outside to clear your head. If you're unable to take a walk, pause and take a few deep breaths before acting.
Other ways to get your shift together is to find a safe and appropriate "venting buddy" who can hold space for you to share your frustrations, listen and empathize with you. Maintaining healthy practices like eating healthily, maintaining a reasonable work-life balance and exercising regularly can also help you build up resilience and recover faster from upsetting news. Respectful Leaders do everything they can to get their emotional shift together, stay positive and never take out their anger on others.
Practice #6: Nip Disrespect in the Bud, Respectfully
A Respectful Leader doesn't tolerate disrespect. When they witness disrespectful behavior they take these people aside and respectfully inform them that their behavior is not acceptable. After taking the individual who has been disrespectful aside and to a private place, you can use the SBI (Situation, Behavior, Impact) feedback tool to share what you witnessed.
S: Describe the SITUATION in which the disrespectful behavior took place.
B: Using factual and neutral language, describe the BEHAVIORS you observed/heard.
I: Then, describe the IMPACT (or result/outcome) of those behaviors on you or others who were involved in the situation.
If shared calmly and in a neutral, fact-based language without judgment, the person will admit that you've correctly summarized the situation regarding his or her behavior.
Sometimes this isn't the case and people may become defensive, making justifications or laying blame on others. Once you've listened and affirmed you don't think that it was their intention to disrespect, they usually are more likely to admit the possibility that disrespect took place. Instead of asking them to ask for an apology, ask, "What do you think you should do?". Many people will respond by saying they want to apologize. If this isn't the case, don't push it. Be with them until they calm down and have had plenty of time to think. When they're ready and after they've had more time to think it through, it is likely they will come back to you to continue the discussion. Now is the time to coach them on what to do next.
Practice #7: Offer a Full Apology for Disrespect
Slips up happen and everyone makes mistakes. We let our negative emotions get the best of us and we behave disrespectfully. When a leader sincerely and fully apologizes for disrespectful behavior, most people will accept the apology and experience a lasting increase in respect for that leader.
For many leaders, this is a hard idea to accept and they believe their apology will make them look weak or used against them somehow. While they may be feared, these leaders who refuse to apologize won't be respected.
These are the 7 Steps of a Full Apology:
Admit It. Be as specific as possible.
Describe How It Hurt Them
Make No Excuses.
Apologize Sincerely, Ask for Forgiveness.
Promise: Never Again
Offer to Make Amends.
Start Immediately.
Remember, apologies need to be genuine and sincere. Avoid using what I call – weasel words – like, "I'm sorry if I offended you" and "I'm sorry you feel what I did was offensive". Just don't. Apologize and mean it.
Practicing these seven foundational practices is a great way to become a Respectful Leader. It will lead to just about everyone also respecting you. When you are a Respectful Leader you will have the potential of becoming highly influential. Once you begin seeing the results of these practices you'll become aware of just how powerful, positive, and influential respect can be both in yourself and in the organization you lead.
Help spread the concepts of Respectful Leadership with your organization by downloading the Respectful Leadership Report.